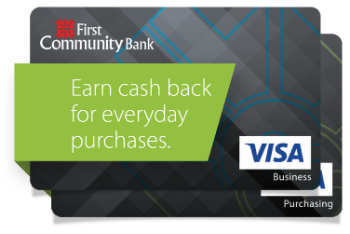 Business Credit Cards
Keeping your business on the go.
Business cards that work for you.
Whether you are buying company supplies or have workers on the road, First Community Bank business credit cards will make doing business easier. 
Simplify your spending while receiving these free features:
No Annual Fee: Plus, an introductory 0% APR*
Cash Rewards:

Earn up to 1.50% cash back for your everyday purchases.

Easy Payment Options:

Make payments at your local branch, by mail, or online with our Credit Card eBanking.

Visa® Fraud Protection:

Enroll in Visa® Purchase Alerts to get a test or email whenever you pay with your card.

Verified by Visa®:

Makes online purchases more secure by verifying payments are made by you.

Controlled Spending:

Keep employee spending in check with variable credit limits and authorization controls.
In-Depth Reporting:

Simplify your record keeping with our easy-to-use reporting tool, Visa® Business Reporting.
Cash Advances:

Get fast cash from our credit cards through our cash advance option. 

Balance Transfers: Start paying down your balances with our balance transfer option.
Rewards
Earn up to 1.50% cash back when you spend. Rewards are paid as a statement credit. 
BUSINESS & PURCHASING CASH BANK REWARDS
Up to $19,999.99
0%
$20,000 to $49,999.99
0.50%
$50,000 to $99,999.99
0.75%
$100,000 to $149,999.99
1.00%
$150,000 to $199,999.99
1.20%
$200,000 to $299,999.99
1.30%
$300,000 and over
1.50%
*Introductory 0% APR begins on the card's date of issue. The variable rate is calculated by adding a percentage to the Prime Rate published in The Wall Street Journal on the 25th day of each month.

The Prime Rate is 8.50% as of July 25, 2023.
Subject to applicable rules and regulations. All promotions are subject to change or cancellation. For full details, please see account terms and conditions.  
Apple Pay® is a registered trademark of Apple Inc., registered in the U.S. and other countries. Android Pay™ is a trademark of Google Inc., Samsung Pay® is a registered trademark of Samsung Electronics Co., Ltd.